CURRENT UNLOAD COSTS
3
x
4
x
$16
=
$192
# of People
Hours to

Unload

Burdened

Labor Rate

Cost/Container to Unload
UNLOAD COSTS WITH THE DESTUFF-ITTM
4
x
1.5
x
$16
=
$96
# of People
Hours to

Unload

Burdened

Labor Rate

Cost/Container to Unload
Because the Destuff-it optimizes the worker's position to the box wall, operators using the machine can produce higher throughput. By increasing the overall unload pace inside the can, additional workers may be required to palletize product on the dock.
Although the number of workers increased by one in this example, the total number of man hours is significantly reduced. Using the same burdened labor rate, the cost to unload each trailer is reduced by 50%! If an organization unloaded the same number of trailers, the total monthly cost to unload using the Destuff-it would be $7,680. That is an annual savings of $92,160!
In addition to the reduction in direct labor costs, the Destuff-it can also impact other areas of the warehouse. By increasing the number of turns per door, organizations may reduce other costs including lower demurrage and storage charges and less shunting in the yard. Also, because workers are positioned on Destuff-it's operator platform, they are not tempted to stand on boxes to access the top of the box wall. This reduces the number of boxes which are damaged during the unloading process, and if fewer boxes are damaged to the point of being written off, that directly affects the bottom line.
While some of these charges may seem insignificant as a single expense, depending on the number of doors, frequency of charge or amount of product damaged, these expenses may have a large effect on an operating budget.
Productivity Gains @ 3PL Operation
---
A large 3PL operation which unloads and distributes houseware product for a major Canadian chain of stores needed to increase efficiency on their inbound dock. Even with several inbound doors, there was a backlog of trailers to be unloaded on a consistent basis. This issue was multiplied during four peak seasonal periods. In addition, the company's contract required the product to be received and inventoried in the racks before payment was initiated.
The company needed a solution robust enough to operate multiple shifts, 6 days a week. They decided to purchase two Destuff-it machines.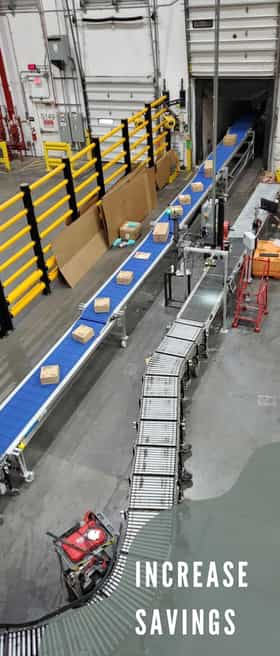 After instituting some simple modifications to their inbound process and with proper training on the Destuff-it machines, the 3PL operation increased productivity substantially. Since introducing the machines, significant annual savings have been realized. In 2016 alone, the organization credits the Destuff-it machines with saving them $384,000.
With the support of upper management and the willingness of workers to continuously improve their processes, this 3PL operation is now capable of unloading floor-loaded trailers filled with multi-SKU and multi-sized products with great efficiency and accuracy. Also, because workers have increased the number of container turns per door on a consistent basis, the company was able to repurpose floor space within the inbound dock area with additional racking, allowing them to inventory stock faster, and in return, receive payment faster. This utilization of floor-space has added to their overall profitability.
The organization also realized a reduction in health & safety claims by inbound dock workers. By reducing these claims, the organization again realized significant savings within their operating budget, positively impacting the bottom line.
During a recent visit to the facility, Destuff-it employees received many unsolicited testimonials from dock workers who use a machine daily. One commented "we couldn't live without our Destuff-it". Because of the overwhelming positive feedback received regarding the abilities & functionality of the Destuff-it, the company has installed a 3rd machine.
What Does 3 Cents Mean to You?
---
Destuff-it™ staff recently followed up with one of our newest customers. When asked how their Restuff-it™ machine was working, the Operations Manager commented "It's going great. We are averaging about 3 cent less in cost per carton handled."
It took some math, but we quickly realized why 3 cents was exciting.
This customer unloads about 1,500 trailers a year. On average, there are 2,000 cartons in each trailer. By reducing costs by $0.03 each time a carton is unloaded, the company is realizing a savings of $60 per trailer. Multiply those savings by 1,500 trailers and that 3 cent per carton equates to an annual savings of $90,000.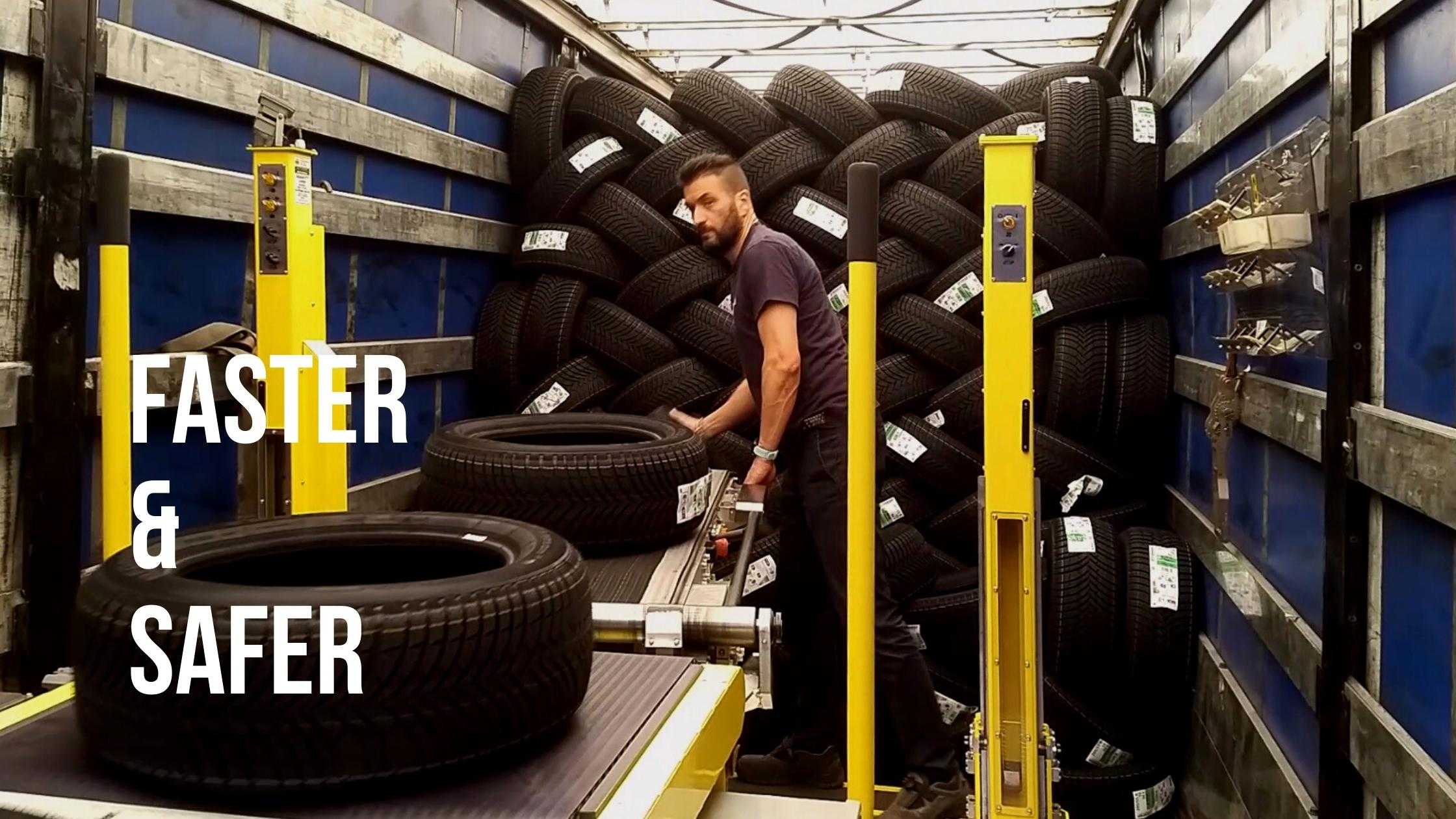 Dramatically Changing the Team Dynamic
---
The company decided to make an investment in their operation and installed two
Destuff-it machines on their inbound dock. By optimizing a worker's positioning to the box wall, faster unload times and greater throughput were realized. Greater throughput meant more trailers could be unloaded each shift and because the Destuff-it reduced the amount of lifting, twisting, carrying and overhead reaching required, workers experienced less fatigue and muscle strain.
The company quickly realized the Destuff-it could help increase the overall health & safety of their workforce as well as maintain a high level of productivity, all with fewer people. The company analyzed their current operation and decided to make a dramatic change. To handle the regular monthly volumes, they hired 12 full time employees to replace the 60 temp workers. Based on the productivity gains realized by the first 2 Destuff-it machines, the company then added a third machine with an additional 6 person crew to assist with seasonal peaks.
Increasing Productivity in Your Operation
---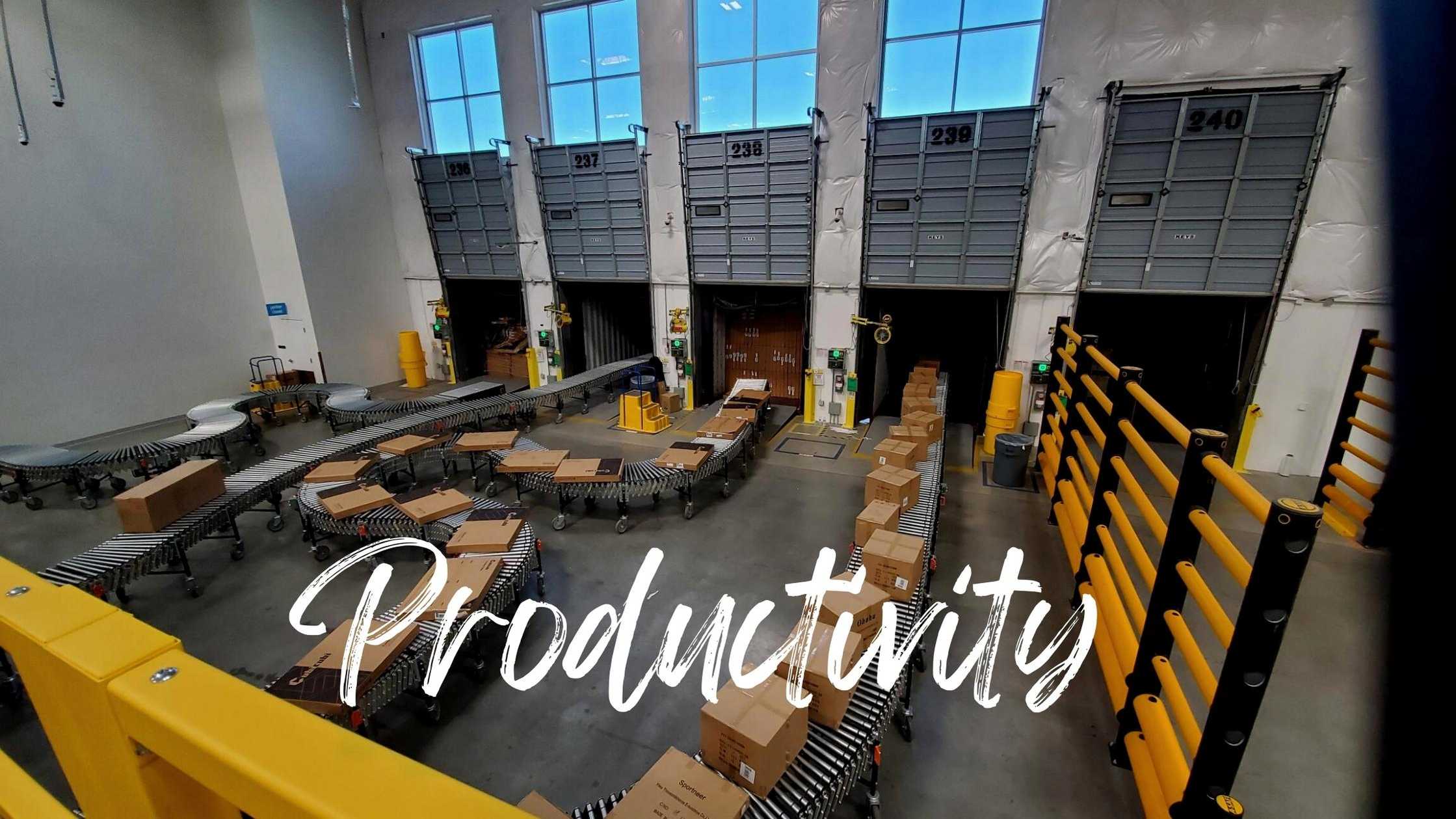 DETERMINING DOCK METRICS
Understanding your operation is good business. By knowing your current unload operation, you can determine what is working well and what needs improvements. This information can also assist in setting & managing suitable benchmarks.
Knowing these metrics prior to renting or purchasing a Destuff-it machine is imperative.
DOCK LAYOUT
Because of optimal positioning to the box wall, Destuff-it operators dramatically increase their productivity rate over the traditional step stool method. Over and over, Destuff-it operators realize a higher case rate of product coming out of the trailer.
With this higher case rate being realized, dock layout is key to achieving optimal results outside the can. By organizing the dock floor where palletizing occurs, all areas of the receiving process are identified and addressed including:
Number of pallets required
Positioning of pallets
License plating & stretch wrapping pallets
Receiving pallets into WMS
Put away process
---
Increasing productivity and efficiency has never been more important than in today's industrial environment. Faster unloading of your floor-loaded product can have a major impact on your company's bottom line. We'd love to walk you through an ROI to see if Destuff-it makes sense for your distribution center or warehouse. Contact us today!